I'm a fan of another group and I can prove it to you.
I was browsing Twitter and I really believe that she's in the wrong for doing this.
1. The fan-manager just took the fan's phone at her own will and was browsing through her phone;;
2. Park Jihoon was looking at the gifts that the fan brought him but the fan-manager took it and gave them back to the fan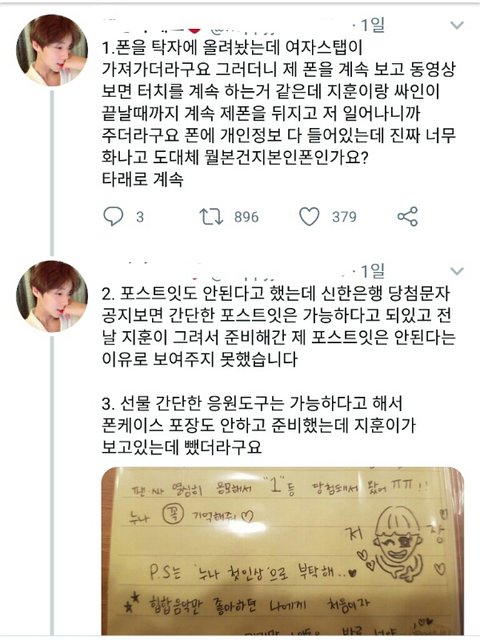 "1. I left my phone on the table but the female staff just took it and kept looking through my phone. If you look at the video, you can see that she kept touching it. She was going through my phone the whole time I was receiving my fansign from Jihoon and when I got up, she finally gave my phone back. She went through all my personal accounts. I'm seriously mad. Seriously, what the heck was she doing?
2. She said that I couldn't give him post-its either. When I received the text telling me that I won the fansign to Shinhan bank, it was announced that simple post-its were ok. I drew Jihoonie the day before on the post-it and she told me that my post-it was prohibited and that I couldn't show it to him
3. They said that gifts and simple cheering gifts were allowed so I didn't even pack the phone case and gave it to him like that. Jihoon was looking at it and she took it away"