For me, it's this...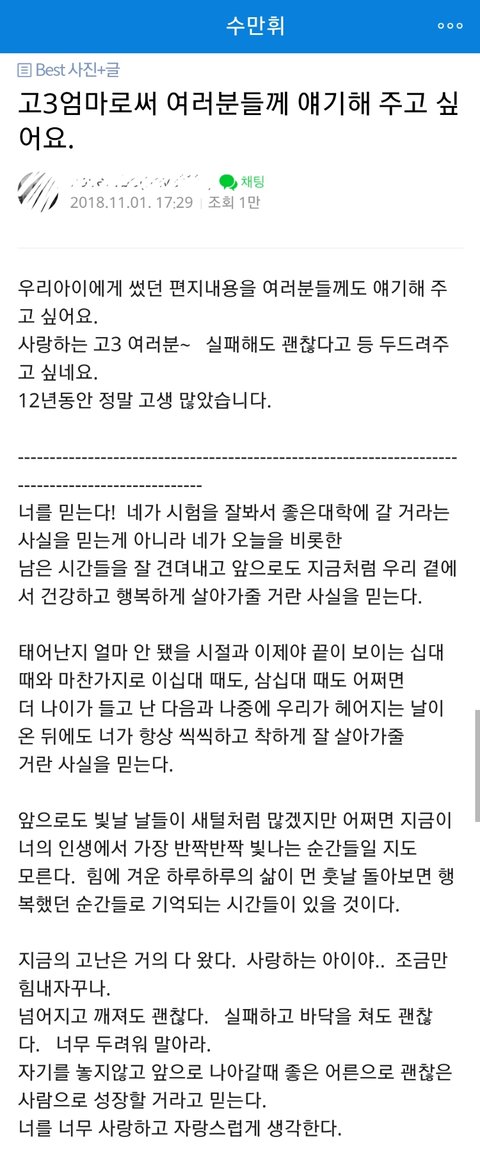 "As a mom of a 3rd year high schooler, I want to say these words to you.
I want to share with everyone the content of the letter I wrote to my kid.
All you lovely 3rd year high schoolers~ I want to tell you that it's ok if you fail.
You have worked really hard these past 12 years.
Trust in yourself! I'm not telling you to trust in the fact that you will succeed at the entrance exam and enroll in a good university. Trust in the fact that you've endured through well and that this is the start and that in the future, you will be healthy and happy.
Trust in the fact that from the time that it hasn't been long since you were born, to the now that it feels like your teens are coming to an end, to your twenties, to your thirties, to even the time when we will be separated, the truth is that you will always live courageously and kindly.
Even though there will be a lot of brighter days in the future, you may be living your brightest days even now. If you look back at the hard and difficult times in the future, they will become memories of happiness.
All the hardships now have almost all passed by. My lovely child.. find strength. It's ok if you fall or if you break. It's ok if you fall and you're on the ground. Don't hate yourself too much.
Trust in the fact that when you will fly into the future, you will become a wonderful person.
Love and be proud of yourself."
I saw this yesterday and started crying from the first sentence...ㅋㅋㅋㅋㅋㅋ
PS: fighting to all exam takers