(T/N: this news happened 4-5 days ago even though the title says "today")
Anchor: So, as you have mentioned, the documents that Jang Jayeon-sshi submitted included three people with the last name 'Bang'. Also, there is a politician with a peculiar name. We are on a mission of finding the truth right now right?
Yoon Ji Oh (YJO): Yes, that's right.
Anchor: Do you have the intention of revealing...
YJO: (surprised) Uhm... As you know, there were a lot of hardships the past 10 years for me to come out as a witness. I have also been suffering from trauma, and I moved a lot too. At the end, I had no other choice but to move abroad (...) the things that I didn't say, I was planning to divulge them at the right time in the future. It's not that I'm trying to protect these people.
If they later sue me for 'defamation of character', I will no longer be a 'witness' but a 'suspect'. I don't even want to give them a little room for escape. (T/n: she said "I don't even want to use up 1 won on them")
Anchor: No, I don't think that you'll become a suspect. For example, you can accuse them. You can become the accuser but..
YJO: These people are very influential so...
Anchor: (cutting YJO off) So, I'm gonna say this one thing. When Yoon Ji Oh-sshi went to the prosecutor's office for the first time, you didn't say anything but now you're talking about the list right? Talking about them in the news like this is an entire other thing. Perhaps, Yoon Ji Oh-sshi can pull your courage together and just divulge the truth about Jang Jayeon by giving us these names. Have you ever thought that doing something like this can speed up this whole process?
.......???????
*Silent for a few seconds*
YJO: Then if I say it, would you take responsibility for it?...
Anchor: Us?
YJO: Yes.
Anchor: Well...
YJO: Like I said, there are only a few people in the list. After all of this, I need to live on and the truth is that there were a lot of hardships. Everything regarding this matter, I told them to the prosecutors/police. I think that there are obviously things that I cannot say as a citizen and as a witness.
Anchor: I understand.. I can understand from your position... So up until now, it was Jang Jayeon's co-worker Yoon Ji Oh-sshi. Thank you for talking with us today.
1. Is he crazy?
2. Sigh.... MBC...
3. F*cker, why would you do something like this to someone so courageous?
4. Wow, trash anchor;; Yoon Ji Oh answered nicely
5. Yoon Ji Oh-sshi is smart
6. What kind of anchor is he??
7. He seriously put the witness in a dangerous spot, he's crazy
8. He's a f*cker
9. F*ck, he must have thought about it lightly since it's not his business
10. Is he crazy??????????????????
[naver] ANCHOR WANG JONGMYUNG, UNREASONABLE REQUEST REGARDING THE LATE JANG JAYEON... YOON JI OH "CAN YOU TAKE RESPONSIBILITY FOR IT?"
1. [+10,112, -39]
A prime example of how the the media has made so many victims by trying to reveal the truth. They go around exposing the truth but doesn't manage the storm afterwards whatsoever.
2. [+2,692, -27]
Even before that, they told him not to ask this type of questions. But even so, he went ahead and asked her about it on broadcastㅋㅋ if he didn't do it on purpose, he must have at least thought about it before the interview right...? MBC, if you're so curious about it, why don't you make a report on it yourself?ㅋㅋ
3. [+1,714, -109]
This announcer is trying to turn all her effort into vain... he's not qualified to deliver this news
[naver] 'JANG JAYEON'S CASE'S WITNESS' YOON JI OH "I RECEIVED AN APOLOGY FROM ANNOUNCER WANG JONGMYUNG.. SORRY FOR HARMING YOUR CAREER"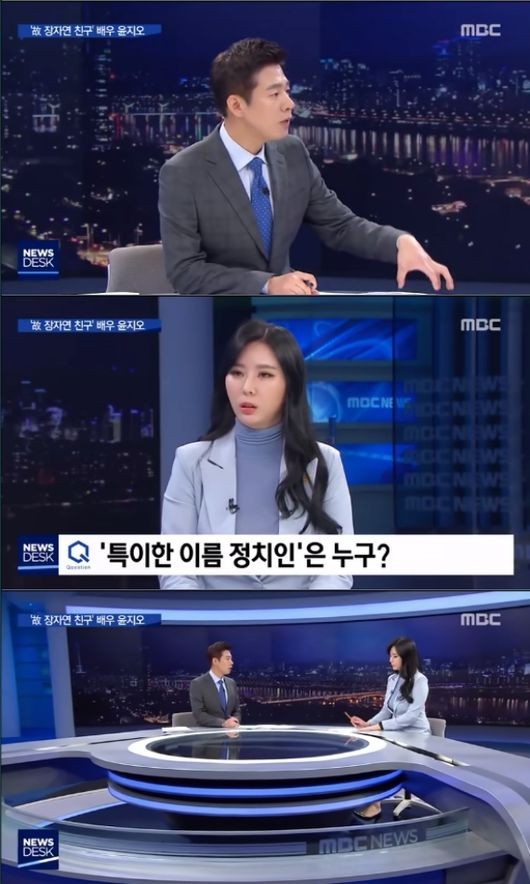 1. [+2,754, -24]
Yoon Ji Oh-sshi, you're someone with great capacity.. ^^
2. [+1,398, -22]
Yoon Ji Oh-sshi has such a pretty heart. I'll support you until the end
3. [+1,275, -17]
She's pretty clever. I'm supporting you