(pic not included)
YG Entertainment
is reportedly preparing to repay the 67 billion won investment from Louis Vuitton Moe Hennessy (LVMH).
According to sources, YG is preparing to make the payment using their own cash flow as they're having difficulties converting their own stock due to the recent stock price plunge. The reason for this difficulty is because of YG's declining stock price of over 40% in 6 months as a result of the ongoing prostitution scandal and tax investigations involving its former executive,
Yang Hyun Suk
as well as
'Burning Sun gate'
involving artist and
Big Bang
member '
Seungri
.'
YG Entertainment received a total of 61.15 billion won from Louis Vuitton in October 2014 with a promise to convert the shares to stock or cash 5 years later. The 135,99688 shares will be converted at a price of 44,400 won. If LVMH chooses not to convert the shares and requests a repayment, YG will have to repay 67 billion won plus 2% annual interest.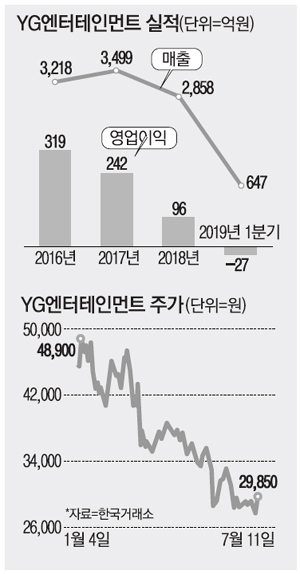 According to an investment banking (IB) expert on the 11th,
"YG Entertainment announced that they're raising funds for LVMH's convertible preferred stock and have reportedly began the process. YG Entertainment is reported to be looking for a redemption request and not a stock conversion after an official request from Louis Vuitton due to the stock price decline."
He stated,
"even if Louis Vuitton executives decided against redemption and went for a conversion instead with a request for damages, YG will nonetheless be subject to a felony penalty at that point and as a result end up having to repay the investment anyway so this repayment requirement was only a matter of time."
According to the IB official
, "YG has been struggling to deal with the investment ever since the beginning of the year when 'Burning Sun' scandal broke. As a result of the constant news in the media and the declining stock price, Louis Vuitton sent YG Entertainment a preliminary letter requesting a repayment if the situation doesn't improve. The actual official repayment request is expected to be sent to YG Entertainment by the end of July or August as is customary."
YG Entertainment has stated that even though they're required to pay back this investment this will not affect the company's financial condition.
Cr: allkpop
original post:
here
1. Congrats!
2. The amount is quite similar to Bang Sihyuk's total sales figure
ㅋㅋ
3. Let's start collecting interest too
4. It suddenly doesn't feel like they're untouchable anymore
ㅋㅋㅋㅋ
I wonder how much he'll be able to pay himself out of this from now
ㅋㅋㅋㅋ
5. Let's drop even more, let's receive the punishment for your crimes
6. All his money is earned in such a meaningless way, it's like bitcoin
7.
ㅋㅋㅋㅋㅋㅋ
8. They're always bragging about how much money they have everyday, but now it's time for payback
9. Louis Vuiddong (t/n: word play with poop) really stepped in poop with them, let's empty all their money
10. Let's reveal everything else they have faster