[the qoo] INTERNATIONAL FAN'S COMMENT ON BTS THAT APPEARED ON NEWSROOM TODAY
"A mad army"
@Taekhyungh: I recommend you to shut up. Do not tag BTS for your political agenda
The foreigner got mad at Ha Taekyung (Korean politician)
ㅋㅋㅋ
original post:
here
1. For Newsroom to have covered this just shows how much of an attention wh*re they are
ㅋㅋㅋㅋㅋ
2. "I recommend you to shut up"
ㅋㅋㅋㅋㅋㅋㅋㅋㅋㅋㅋㅋㅋㅋㅁㅊㅋㅋㅋㅋ
3. The witch hunt is real
"A mad Army"
"Spread of the army exemption controversy... The 'BTS law'"
"The "BTS law" "Law against military service exemption abolished"... Stirred up the assembly"
4. "A mad Army" f*ck
ㅋㅋㅋㅋㅋㅋㅋㅋ
Although I quit the fandom, they're so obvious with the way they treat this fandom
ㅋ
They're so childish
5. Those f*ckers are using them to mock them
6. They pretend they're clean themselves.... Do you think that Army wanted this? Just fight your political wars without bringing Bangtan into this mess.
7. She's f*cking refreshing though
ㅋㅋㅋㅋㅋㅋㅋㅋ
Those idols have done no wrong, why are they trying to drag them? They should just shut up
8. JBTC Newsroom has always been ret*rds
9. Seriously the embarrassment of our country
10. Why is Newsroom acting so low?
[enter-talk] WHAT THE? I JUST SAW THE 'BTS-LAW' NOW??
This isn't right no?
"Spread of the army exemption controversy... The 'BTS law' soon in motion"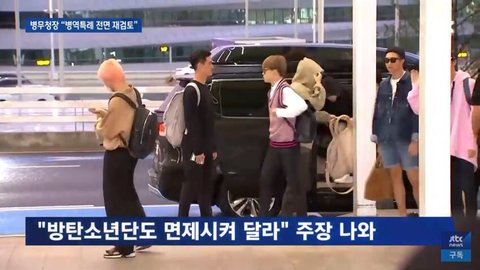 People arguing that "BTS should be exempt from the army too"
T/N: Basically, the Korean government allow certain musicians to be exempt from their military services if they win in some kind of important competition such as classic music competitors. Because BTS have won numerous international awards and set multiple records, some people have started demanding military exemption for the group.




original post: here