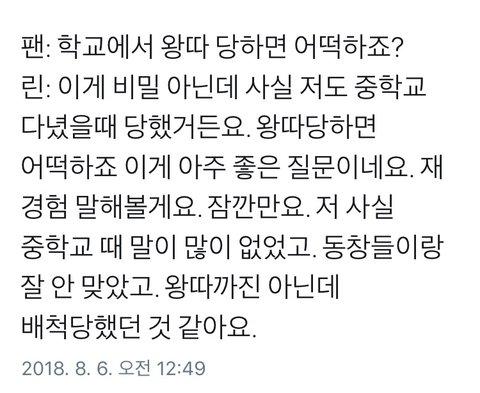 Fan: What would you do if you get bullied at school?
Lin: This is not a secret to anyone, I actually got bullied at school. How to deal with bullying, that's a very good question. I will speak from experience. Wait. Actually, I never spoke a lot during middle school, so I didn't get along with the alumni. So I wouldn't say that it was bullying, but rather, I was ostracized.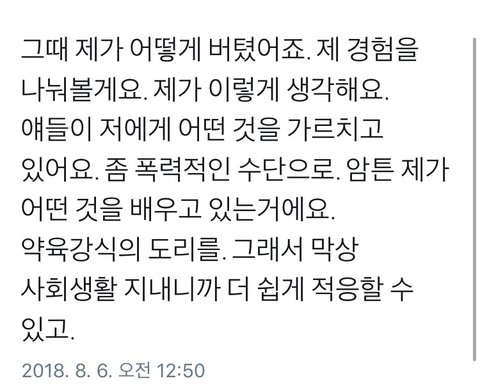 How did I endure at that time? I will share my experience. This is the way I look at it. The kids (who ostracized me) taught me something. It was by violent means, anyways, I found a way to learn from it, how it was the law of jungle. So that I could adjust to the life in society more easily later on.
They helped me adapt to any kind of environment faster. You can learn from good people, just like you can learn from bad people. They taught me that I can't act like them. The reason why I'm saying this while smiling is because I'm very thankful to those people.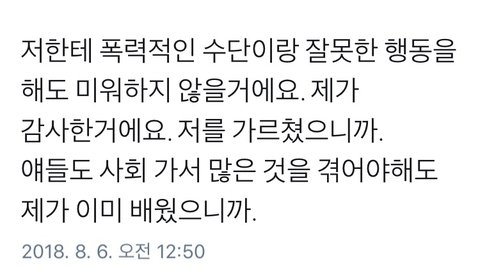 Although they were violent and they were at wrong with their actions, I don't hate them. Rather I'm thankful. Because they taught me something. Because I already learned how to go through in society
Baby... I didn't know that he had it like that, he's so mature
And he suddenly started to speak in Chinese, but I didn't know what he was saying and later on, I learned that he was translating everything for the Chinese fans.. In case they were hurt
There are so much things we can learn from 18 years old Guanlin
ㅠㅠ
post response:
[+1.074][-28]