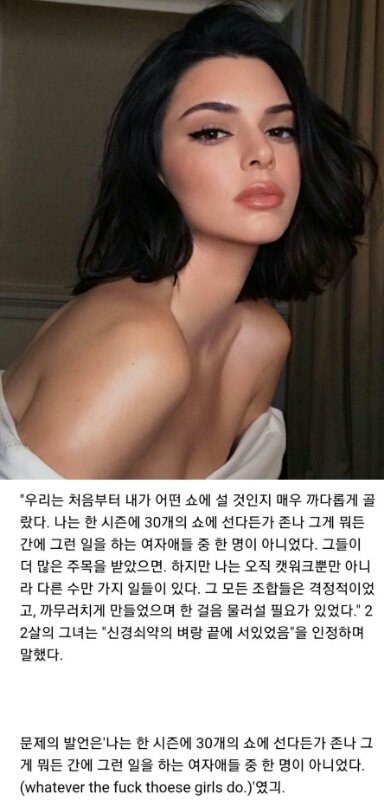 Cr: WMagazine
In a Interview with the Love Magazine, Kendall said "since the beginning we've been super selective about what shows I would do," she said. "I was never one of those girls who would do like 30 shows a season or whatever the f--k those girls do. More power to 'em." Instead, Jenner said, she worked on "a million jobs, not only catwalks but everything else," a combination that "was very overwhelming" and brought her to "the verge of a mental breakdown."
In the intervening days, a series of models have pointed out that not everyone has the option to book only a certain number of runway appearances. Instead, for most, it's necessary to "do like 30 shows a season" in order to make a living in fashi

on—models who, as

Daria Strokous

p

ointed out in a series of runway images and text posts on her Instagram stories, have included Kate Moss, Jourdan Dunn, Coco Rocha, Natasha Poly, and countless others who continued to walk as many shows as possible even after ascending to the height of the profession. "'...Whatever the f--k those girls do' is do their very best to make their way up AND try to make some money so that they can provide for themselves and their families," she wrote. "Oh, and it's 70 shows a season by the way and we are all f--king proud of every single one of the girls that did it."
Following that, a lot of other models reacted to her interview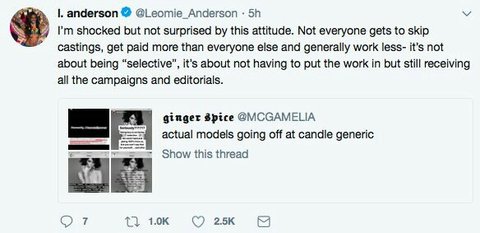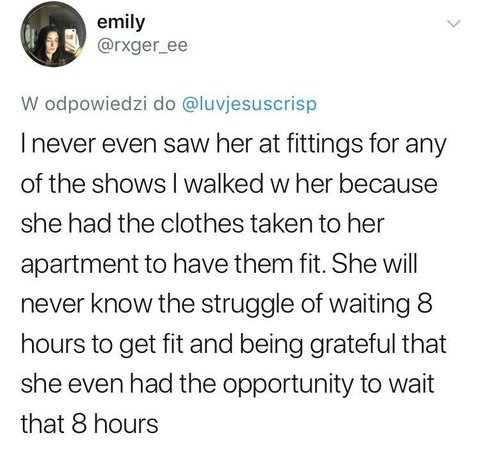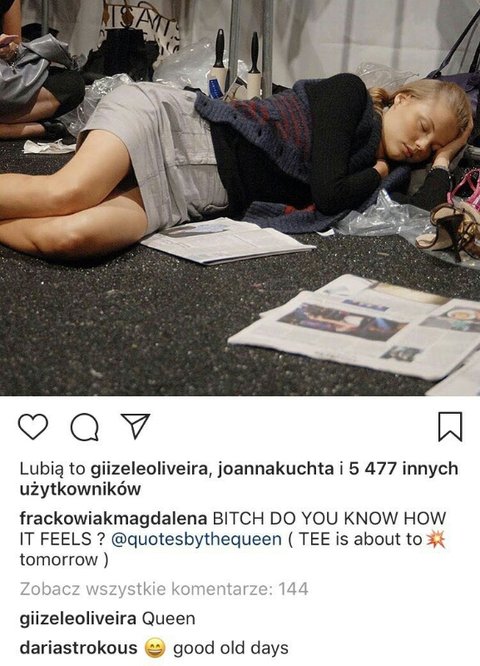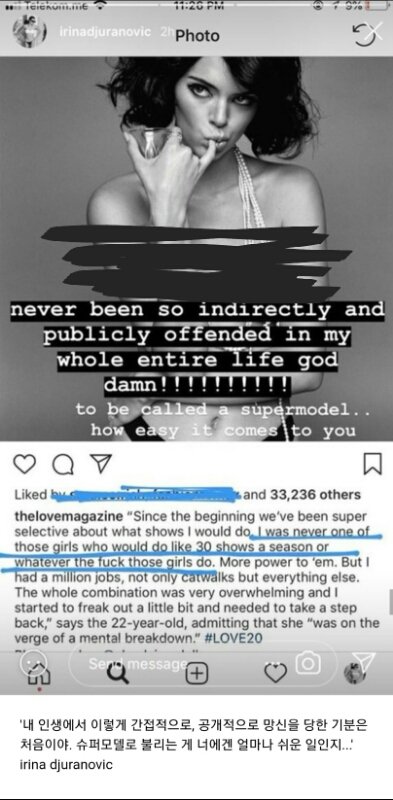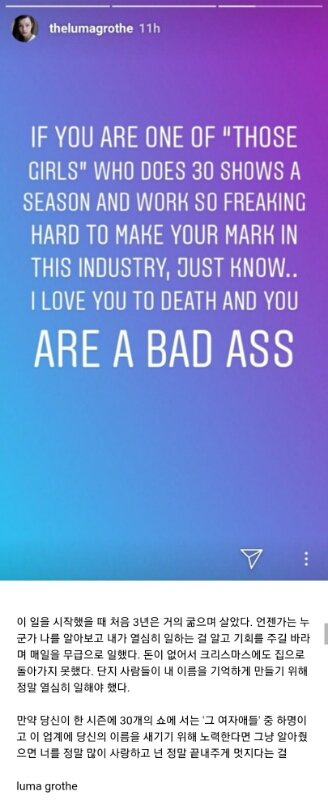 In the end, Kendall had to clarify herself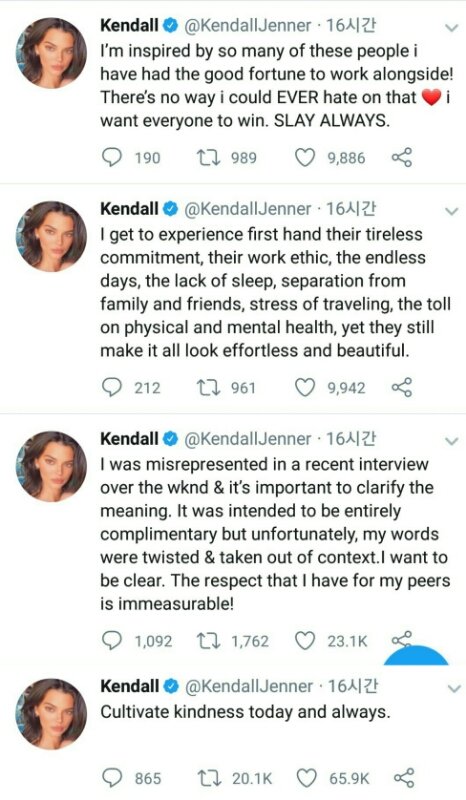 But then, models started exposing her again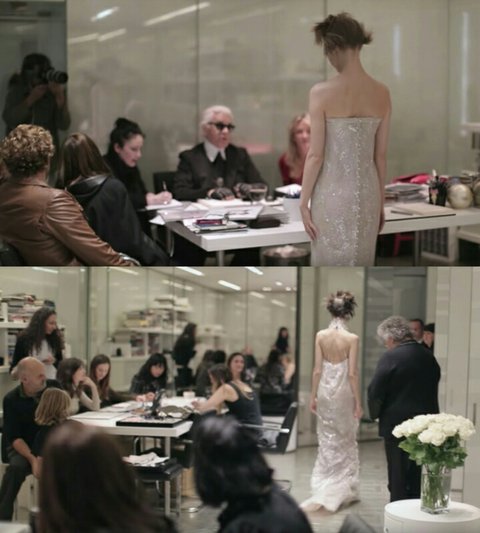 The worst thing in all of this is the fitting process.
For a fashion show, the models have to come to the fitting to see if the clothes look good on them or not, and if the clothes look bad, the models can be cut on the spot.
There are so many models who get cut throughout the fitting process and the pressure is extremely high on them.
They have to walk in and out again and again while bearing the stress with them and not even the biggest of the models will be an exception to the fitting process.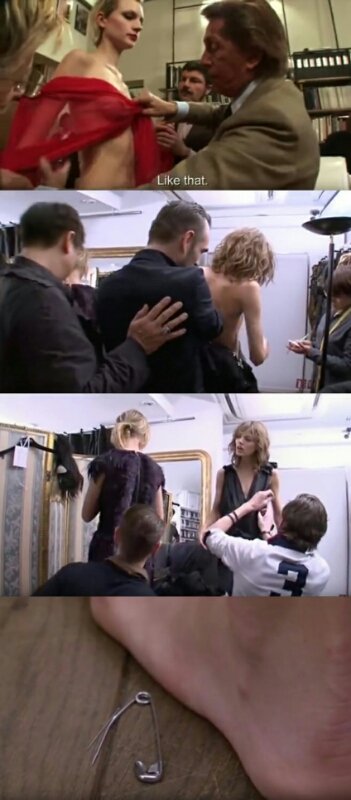 Also, fitting is not only tiring mentally but also physically.
The models have to wait for hours, remove their clothes in front of everyone's stares and working in inadequate environment.
Their clothes are adjusted with hundreds of pins and a lot of them end up with wounds on their bodies.
Meanwhile, Kendall gets her clothes shipped to her house. But who wouldn't want that instead??
She should be treated the same as the others since it's her job.
I get why other models would be so mad
This was the state of her walk at the Victoria Secret show when she was 19 y.o. She got to walk there as a gift for her birthday